by Andreas Zaron
Translated by Pat Swayne
Let me know if anything needs fixing. The Discography and CD Tips are from Zaron's site, with German text, especially in CD Tips.
---
Peggy March (Margaret Annemarie Battavio) was born in Lansdale/Pennsylvania on March 8, 1948.
At the age of 5 years Peggy was already singing at weddings and family celebrations. As a pre-teen, she began appearing weekly on a taped Country & Western TV show on local stations.
At the age of 13 Peggy was discovered at the wedding of a cousin and landed a disk contract with RCA. Her first single, "Little Me", a Song from the Broadway musical of the same name, appeared in 1962, but was not a success.
In the spring of '63 15-year old "Little" Peggy March makes the hit lists with "I Will Follow Him" and peaks at number 1 on the US Charts for 3 weeks (she holds the record for 35 years as the youngest singer with a no. 1 hit). The song goes around the world, and makes no. 1 in Australia, New Zealand, Japan and Scandinavia. In Germany the title climbs to no. 8.
Her first foreign appearances and recording sessions are in Japan, followed in the Autumn by a trip to Germany for the Radio Exhibition in Berlin. Caterina Valente puts Peggy on her TV show in Vienna, and "Hello Heartache, Goodbye Love" becomes a top 30 hit in Great Brittain. Also during this time "l Wish I Were A Princess" is a hit in America. After 1964, Peggy has only two more hits in the US top 100, but abroad she does much better.
When Peggy records for a foreign market, she does not just sing US hits in the language of a particular country, but produces for that market. So she soon had her first no. 1 hit in Japanese, and, with "Lady Music", had her first big success in the German language, followed by two other top 20 hits that same year. After her appearance with the legendary San Remo festival, she published her first Italian album (produced by Ennio Morricone), and "Te ne vai" promptly became no. 1 in Italy. Her only Dutch single is still in demand today.
In January 1965 "Goodbye, Goodbye, Goodbye" climbs up to position 8 on the German Charts, and in June, Peggy becomes, with a 100 point lead, queen of the "German Hit Festival" in Baden-Baden. At this point, she finally becomes a first class German hit star. Her title, "At 17 I Still Dream" remains in the German top 10 for 3 months, and is published in 5 other languages.
In Paris, she records a French language single, while in Japan her first album with Japanese songs appears. In Germany, she ends the year 1965 as the best selling singer according to the technical publication Music Market.
Because of American Laws which prevent Peggy from being in control of her finances until she becomes 18 years old, her fortune aquired in the previous 3 years is squandered by her manager, leaving her with only 500 dollars. But she puts this setback away quickly, because she is still in demand in Japan and Europe.
In Argentina, Peggy records some songs in Spanish, and guest stars in a concert with Josť Feliciano. Besides various singles, the folklorish album "Amor" also appears, with some Latin standards recorded especially for the South American market.
In 1967, Peggy lands two giant hits in Germany with "Memories of Heidelberg" (no. 5) and "Romeo and Julia" (no. 1). Together these two songs spend 43 weeks on the German hit charts. In May 1968, she marries her new mannager, Arnie Harris.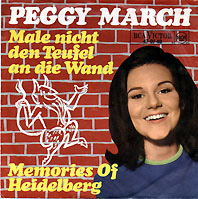 In Japan, she has another no. 1 hit with "Wasurenaiwa". At the same time, a very unusual album appears in the US called "No Foolin'". At 20 years old, Peggy is still well known as a princess of Teen Pop. So it is all the more strange that, right in the middle of the "Flower Power" era, she would interpret Swing titles from the 40's and 50's. She suprises the critics by performing these songs with considerable maturity, which is quite a contrast to what she's been doing in Germany. There, in the same year, she is awarded a bronze "Otto" by the Teenage cult publication Bravo. This is actually not surprising, because she produces 4 hits in Germany that year, including "Telegram from Tennessee" and "Canale Grande Number One", and in the previous two years sold over 3 million singles.
In America, Peggy doesn't have any more success in the charts, but she finds a new public by touring the most famous nightclubs in the country.
However, in Italy, and particularly in Japan, her records do very well, and there are regular appearances on TV and in concerts. The married couple March and Harris fall madly in love, not only with each other, but with Germany, and so they decide to move to Munich. Peggy settles for 2nd place in the German Grand Prix preliminaries, but her song, "Hey, That's Music To Me" still becomes a hit on the radio.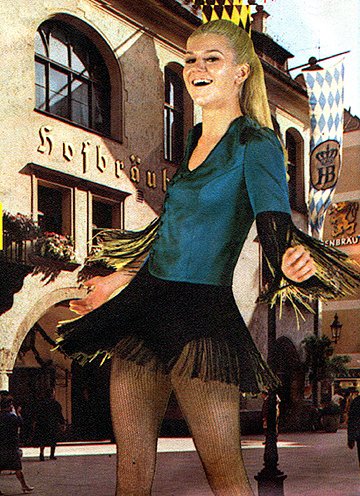 In London, Peggy can manage only 2 British chart hits in 1969, while placing 5 singles on the German charts that same year, where "In Carnaby Street" is one of her biggest hits. With a change of record companies (RCA to Decca), she also slowly transforms herself from a teenage singer to a young woman. While she still delivers successful singles, for example, "Before Buckingham Palace", she begins putting songs on her albums "My World" and "My Song for Peggy" that seem unusual for her (with songs from Jimmy Webb, Richard Rogers, and Otis Redding). These and interpretations of international songs help Germans realize that she is not just a hit singer. The songs from this period supply the material for her first 45-minute TV special, "Peggy in Berlin" for the ARD (a German TV network). 1971 gives the then unknown producer Ralph Siegel his first big chance, when Peggy records the song, "Once In Love -- Always In Love", which becomes a big hit and spends 21 weeks on the charts.
Peggy also enjoys considerable success into the middle 70's in Japan, with countless TV shows, annual tours, and many chart hits, including a Japanese version of "Love Story". In 1972 her new producer Ralph Siegal changes her label to Ariola, but this cannot guarantee the same success with singles she had before (25 top 40 hits in 10 years). Only "How Much You Have Forgotten" manages to reach as high as number 30.
On TV however, Peggy still has considerable public exposure. The 70's are a time of big TV shows, and Peggy makes almost weekly appearances on important broadcasts which were new concepts at the time, and wrote television history. These include "The Peter Alexander Show", "Music is Trump", Peter Kraus' "One Note In Time", the "ZDF Hit Parade", "The Michael Schanze Show", "Monday Painters", "Music from Studio B", "Star Parade", Ilja Richter's "Disco", and numerous specials.
Peggy made up for a disappointing 6th place at the 1973 German Hit Competition in Berlin (with a bad title from Ralph Siegel) with a sensational second place at the International Song Festival in Caracas, Venezuela, with "Nueve Estrellas".
In January 1974, her daughter Sande is born, and Peggy takes a "baby break" for several months. She has to forgo the Grand Prix d'Eurovision, because, for the second time, she only makes 2nd place in the German preliminaries.
Peggy's concept album, "Men" (produced by Ralph Siegel), attracts considerable attention, even among respectable critics, and draws high praise for its interpretation. But the project is too far ahead of its time for a "hit accustomed" German public.
In 1976, with a new record company and producer, Peggy rockets into the hit parades again with "You Can't Make Me". Her next single, "Costa Brava" is even published abroad in Spanish and English. She also enjoys success in Japan again with a sold-out tour of 16 cities.
In the summer of 1977, Peggy March wins first place at the Festival de Canciones in Spain with the title "You and I" against an international competition from 19 countries, before 300 million TV spectators throughout the world. And also in Germany Peggy succeeds again with a genuine hit, "Fly Away Pretty Flamingo", which climbs up to position 15 on the German sales charts and sells over 400,000 copies (this corresponds to a gold single, at least by today's measure).
At the beginning of 1978, Peggy inspires public acclaim at the music fair "MIDEM" in Cannes with her One Woman Show, and in the same year she also goes on a well received concert journey through the DDR (East Germany).
In her first big theatrical role, Peggy plays in the Cole Porter musical "Seidenstruempfe" ("Silk Stockings") in Kaiserslautern, and also on tour. She also represents Germany sucessfully at the Song Festival in Zopot, Poland.
In 1979 Peggy tries to do an English language album again, but the attempt to swim along on the Disco wave with "Electrifying" fails.
At the start of the 80's her pop record sales decrease and many companies no longer want to extend their contracts. The two last Singles for EMI are compositions by Peggy, which have good radio play; however, a planned album on that label is not carried through. EMI declines, saying it is too American and too limited in appeal.
The Harris Family become homesick, and also they desire to complete their daughter Sande's education in the USA, so the beginning of 1981 finds them back in their homeland. Peggy takes acting lessons in Los Angeles, plays theatres, and gives concerts with her own band. During the next ten years she regularly makes short visits to Japan and Germany for television broadcasts and festivals. Also her talents as a songwriter develop magnificently. She co-authors "Manuel Goodbye" (with Audrey Landers) and "When the Rain Begins to Fall" (with Jermaine Jackson & Pia Zadora), with both titles reaching number one all over Europe with gold and platinum honors. In 1989 she produces a self-written album of childrens songs in the USA.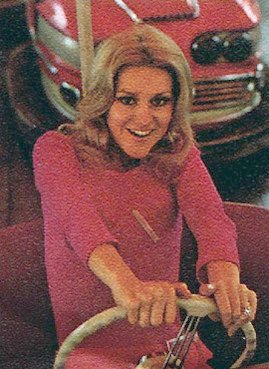 At the start of the 90's there's a German-language hit revival in Germany, and Peggy March makes her comeback. In 1993 the label Cook International publishes her CD "All Women Want Just One Thing", and in the same year Peggy wins the "Golden Tuning Fork". In the coming years she is eager to return to TV, like in the 70's, and is in demand on tour with the German TV Hit Parade, and at festivals in Germany, Austria and Switzerland. She also begins to paint, and has her own exhibitions in Munich, Nuremberg and Hamburg. Disk sales are not as brisk as in earlier years, but her singles do make the radio airplay lists, and in the space of two years she publishes the albums "The Freedom To Be A Woman", "A Handful of Paradies" and finally, "The Best of: Milestones".
Andreas Zaron,
January 1999
---