Back to Press Releases
February 7, 2000
PlayTV Makes Huge Splash at Television Producers' Convention
February 7, 2000 - Rancho Cordova, Calif.- At the National Association of Television Production Executives convention (NATPE) in New Orleans, television-industry insiders flocked to PlayTV's booth to witness a compelling example of the convergence of television and the Internet.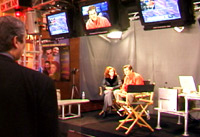 The Chicago Tribune's Gary Dretzka, impressed with this new medium, summed up a prevalent feeling among the masses surrounding the PlayTV booth in his post-NATPE wrap-up: "The long-anticipated convergence of computer and broadcast technologies no longer is a matter of 'When?' but 'Where do we sign up?'"
Dretzka's story focused heavily on PlayTV, which live-broadcast shows over the Internet each day directly from the convention floor.
"PlayTV's ratings may not equal those of 'ER,' but such interactive series as 'Prime Directive' and 'Kiki at Midnight' can be seen around the world and are produced for a fraction of the cost of the lip gloss allowance on 'Friends.'"
USA Today reporter Graham Jefferson also highlighted PlayTV's presence in his NATPE follow-up column. He spoke to PlayTV's Kiki Stockhammer, host of "Kiki at Midnight."
"This is a new medium," Kiki said. "For people who like to interact with their TV, with chats and instant messages, the Internet is the place to be."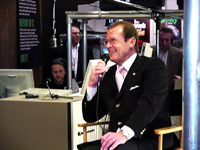 Each day from the NATPE show, Kiki and popular actor and comedian Fred Willard hosted a special 90-minute Internet broadcast available for viewing on both www.aentv.com and www.playtv.com. Kiki and Fred interviewed several celebrity guests during shows, which were live-broadcast over the Internet each day from the convention.
The broadcasts were an expanded edition of AENTV's entertainment news program "The Hollywood Reporter Minutes," which typically features breaking entertainment news stories, interviews, clips, and remote segments covering feature films, televisions shows, award shows, and film premieres.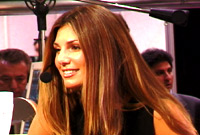 Kiki and Fred welcomed such venerable guests as Robert Stack, star of "The Untouchables" and "Unsolved Mysteries"; former "James Bond" star Roger Moore; comedian Louie Anderson; the beautiful stars from the new "Baywatch Hawaii" television series; and supermodel and former MTV V-Jay Daisy Fuentes.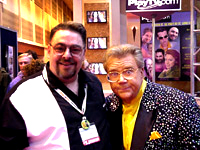 Other PlayTV hosts who took their regular shows on the road to the Big Easy enjoyed chatting up celebrity guests on their live shows from NATPE as well. Both Revelstoke Jim and Will Wilkins had the pleasure of hosting "The Price is Right"'s Rod Roddy on their shows. Revelstoke Jim was also pleased to welcome popular hand-puppet Ed the Sock-a fixture on late-night TV in Revelstoke's native Canada.

About PlayTV:
PlayTV is a pioneering Internet-broadcast network that distinguishes itself by offering 12 hours of live original content per day, five days a week. The network takes advantage of streaming media's highly interactive nature, giving viewers the ability to influence the evolution of each show through e-mail, instant messaging and phone calls. PlayTV is an Affiliate Member of Play Streaming Media Group (www.PSMG.net ), which provides the network with advanced production technologies, distribution solutions and program syndication opportunities with other Internet TV networks and portal sites.