The Play Trinity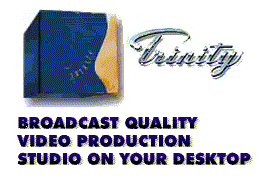 For only $4995.00 the Trinity provides true broadcast-quality video with:
A D1- quality video production switcher with 8 inputs, 2 still stores and a color matte generator
3D digital video effects
Non-linear and linear editing capability
Character generation
24-bit paint, animation and compositing software
Virtual sets using live actors and computer-generated images
Chroma-keyer
Two internal time-base correctors
And built-in machine control
You'll also need a low-cost PC running Windows 95 or NT with 32MB of RAM, a CD-ROM drive and a hard drive plus a SVGA monitor capable of a 1024 by 768 display. Video monitors, source VCRs and the Trinity non-linear editing option are extra. But the basic system still provides tremendous capability at an extremely low price.
The Trinity can be used as a real-time switcher for live television work. Every wipe, effect, title, etc. occurs in real-time. The Trinity can also serve as the heart of a real-time tape-based or non-linear video editing system. The Preditor linear/non-linear editing software provides a user-friendly drag-and-drop graphical interface. Four RS-422 serial ports are available for connecting VCRs.
The $5995.00 Time Machine option adds two independent D1 video streams with audio for real-time editing with effects, transitions and titles. Compression ratios range from 3:1 to 30:1, with storage varying from 30 minutes at the highest video quality up to several hours at Betacam SP quality. Additional Time Machine modules can be added for more video and audio streams.
Real-time transitions and effects include soft-edged organic wipes, sepia tone, solarization, colorization, waves, ripples, page peels with highlights, recursive effects such as trails, cycling, decay and strobing, and wrapping live video onto 3D shapes.
The character generator creates real-time anti-aliased titles and graphic elements keyed over live video, with TrueType and PostScript font support. Titling effects include peel, spin, and explode.
Trinity's Panamation software provides real-time object-oriented paint, animation and compositing. You can paint directly onto live video to perform rotoscoping and animation effects. Paint attributes including position, size, rotation, color, transparency and velocity can be animated. Panamation also provides motion tracking, image stabilization, animated particle systems, and flying mattes.
Trinity's Virtual Sets combines live actors and 3D computer graphics to generate digital sets in real time. Shadows, reflections, refractions, light sources and virtual camera moves are included.
If you're interested in purchasing a Play Trinity system and require pricing and ordering information, contact VIP Systems at 919-968-9477 or via their website at www.vipsys.com
Send mail to mdrabick@mindspring.com with questions or comments about this web site.
Copyright © 1997 DigiTek Systems
Last modified: February 17, 1998